Beloved Bristol brewery forced to ask for crowdfunding to stay afloat
February 19th 2021. Published by The Bristol Cable
Dawkins Ales, which also owns popular Bristol pubs, is calling for help from local people to save the business from falling victim to Covid-19.
One of Bristol's best breweries and the owner of some of Bristol's most characterful pubs has launched a campaign to save their business after they announced Covid-19 has destroyed most of their revenue over the last 12 months.
Based in Easton, Dawkins Ales supply more than 100 pubs and restaurants, but brewing has been suspended because of low demand during the pandemic.
The brewery also owns a handful of much-loved small pubs across the city, including The Miner's Arms in St Werburgh's, The Hillgrove and The Green Man in Kingsdown, The Victoria and The Portcullis in Clifton. These traditional boozers are known for serving real ale with less emphasis on frills like comfortable seating or gastro food.
Yet the future of these Bristol institutions and the brewery behind them is now under threat – the latest casualty of the ongoing Covid crisis. Today, owner Glen Dawkins and his team are launching a crowdfunding campaign to save the business from going under – to pay to maintain the brewery.
Glen is making a heartfelt plea to the local community, admitting in a sombre tone: "It's tough… and we're hanging in there, but the truth is we're struggling and we need your help."
When I video call him, he is surprisingly energetic, positive and humorous – he doesn't look like a person whose business could be about to go down the spout after 20 years.
"Pubs and independent shops were 99% of our trade before the pandemic," he says. "Once pubs closed in March of last year, we pivoted towards home deliveries but we still lost about 90% of our trade."
Business picked up last summer and when pubs could sell takeaway drinks, but this hasn't been possible since before Christmas. "Unfortunately we've gone through our reserves, but we've still managed to hold onto all our 5 members of staff – who are employed and not furloughed – so we're doing the crowdfunding to bridge the gap before pubs can reopen again," he says.
Dawkins Ales is just the latest hospitality business in Bristol to speak out about the struggle to survive the pandemic. Before Christmas, the Bristol Association of Restaurants, Bars and Independents (BARBI), told the Cable thousands of jobs were at risk if businesses didn't receive more financial support. BARBI have since launched a new app to challenge Deliveroo by helping food businesses get better value for money on takeaway orders.
Looking ahead, Glen says: "The pubs will probably open late Spring or early Summer and I hope that we just scrape through to then. If we went beyond a few months then it would be a real risk as we'd have no cash left."
Pubs in peril
Another problem is the tenants at their pubs: "Some are deferring rents but we're still having to pay rents on all the sites," Glen says. "If I can keep on the good side of the freeholders then things should be OK, and most tenants pay their rent every week, but obviously the pubs are making no income, there's still utilities to pay so it is difficult."Read moreLocal delivery app launches to 'save' Bristol's independent bars and restaurantsBristol hospitality sector under threat pleads for rent help from council and government
"For most of our pubs, it is the tenant's business so they are really hit, and like a lot of self-employed people not all of them have had help from the government and so they have fallen through the cracks."
Dawkins Ales, which started brewing in 2009, was one of the first of the new wave of smaller breweries set up in Bristol since the turn of the century. Best known for their Easton IPA, Dawkins have won awards for several of their beers.
"There were only four or five small brewers when we started, such as Bath Ales," says Glen. "People then were making traditional real ales and now there are at least 30 breweries in Bristol and styles have all changed."
In return for donating to Dawkins, the brewery is offering various 'rewards' each one named after one of their beers, from a £10 'Bristol Best' Summer Beer Fest Ticket to a £500 'Holy Mole' reward where you can hold your own private party at the brewery.
Glen hopes the local community will be able to offer support. "It's because we've been part of Bristol for so long and it's home, we feel as though we're part of the community, so hopefully people will want to invest money and then they'll get something back."
Helping people from Bristol's Somali community deal with lockdown 2
December 1st 2020. Published by The Bristol Cable
For members of Bristol's Somali community already living in difficult circumstances, the second lockdown has made life even harder. But the Bristol Somali Resource Centre has stepped in.
"Since July, I've struggled to live off Universal Credit. I lost my job after an injury to my back. Since then I have had to rely on Universal Credit. It was suddenly reduced by £80 a month but they didn't tell me why. During lockdown I've found it hard."
Khadra is a 40-year-old single mother with three children. She lives in a flat in a high rise block in Barton Hill. Her story is typical of what the staff at the Bristol Somali Resource Centre (BSRC) based at Barton Hill Settlement are having to deal with more and more since the start of the second lockdown.
The team of four permanent staff there have been working hard during the pandemic to help people from their own community and other minorities in Bristol. Usually, they help people with all sorts of things, from benefits and housing, immigration and jobs.
"It was like going from paradise to hell but BSRC helped me once again. Just in the last week they have given me money to live off, without which I couldn't survive."
But this role has changed since March. They are now seeing an increase in people in dire need of basic necessities and also more people suffering from a range of mental health problems exacerbated by the pandemic.
As a result they have set up a task force to deliver food to people who are finding it hard to survive on Universal Credit. They have also employed an extra person as a mental health counsellor.
Before Khadra's injury she was working as a care assistant in a care home, but her employer has not paid her any sick pay nor has she got any extra benefits for her condition. She was working for six months but on a zero hours contract.
Saed Ali, one of the key workers at BSRC, has come across this many times before: "Companies using zero hours contracts are exploiting people. When workers are fit they are OK, but if their condition changes they are entitled to nothing."
Khadra doesn't speak English, which makes it more difficult for her to communicate with the relevant authorities. This is why she has had to use BSRC.
BSRC have now established that Khadra's Universal Credit deductions were being taken for rent arrears but through a combination of language difficulties and poor mental health, Khadra had not been able to establish this.
It's particularly hard to get through to anyone about Universal Credit because people are working at home, says Saed. "Often you are on hold for up to 40 minutes and sometimes after a certain amount of time they just cut you off."
"This has been the worst part of lockdown – not being able to communicate with either the Department for Work and Pensions or council and to show her paperwork. She is missing some sort of entitlement to benefits because of her back injury."
As a result, the task force set up by BSRC has been delivering food parcels to her. "The food that the task force was bringing some days was all we had to survive off," Khadra says,
Lockdown life for those without a home
Originally from Somaliland, 60-year-old Mohamod has been in the UK for 12 years but hasn't been able to work throughout this time because he's an asylum seeker.
He has been refused 'leave to remain' status, which would ensure his right to live in the UK as an immigrant. He originally arrived on a six-month visit so that he could attend the funeral of his son but then didn't return home after.
"I survive from the charity of the people at BSRC and also other people in the local community who put me up and feed me," Mohamod says.
"During the most recent lockdown the British Red Cross have given me temporary payments of £30 per week and Tesco food vouchers."
Luckily he was given a room in the Holiday Inn during the first lockdown but this ended after restrictions were lifted. He then found himself homeless.
"During the latest lockdown I have been staying with a friend. He works nights so when he goes to work I can use his bed. I have lived in more than 200 houses over the last 12 years."
On several occasions, Mohamod has had nowhere to stay and sometimes has had to sleep in bus stops. Lockdown has been hard, he says, but he accepts it saying it is something "written by God".
BSRC has continued to provide Mohamod with basic provisions like food deliveries and money during the second lockdown. They have also helped him apply for legal aid in the process to get leave to remain status.
Mohamod says he is eternally grateful. "After leaving the Holiday Inn it was like going from paradise to hell but BSRC helped me once again. Just in the last week they have given me money to live off without which I couldn't survive."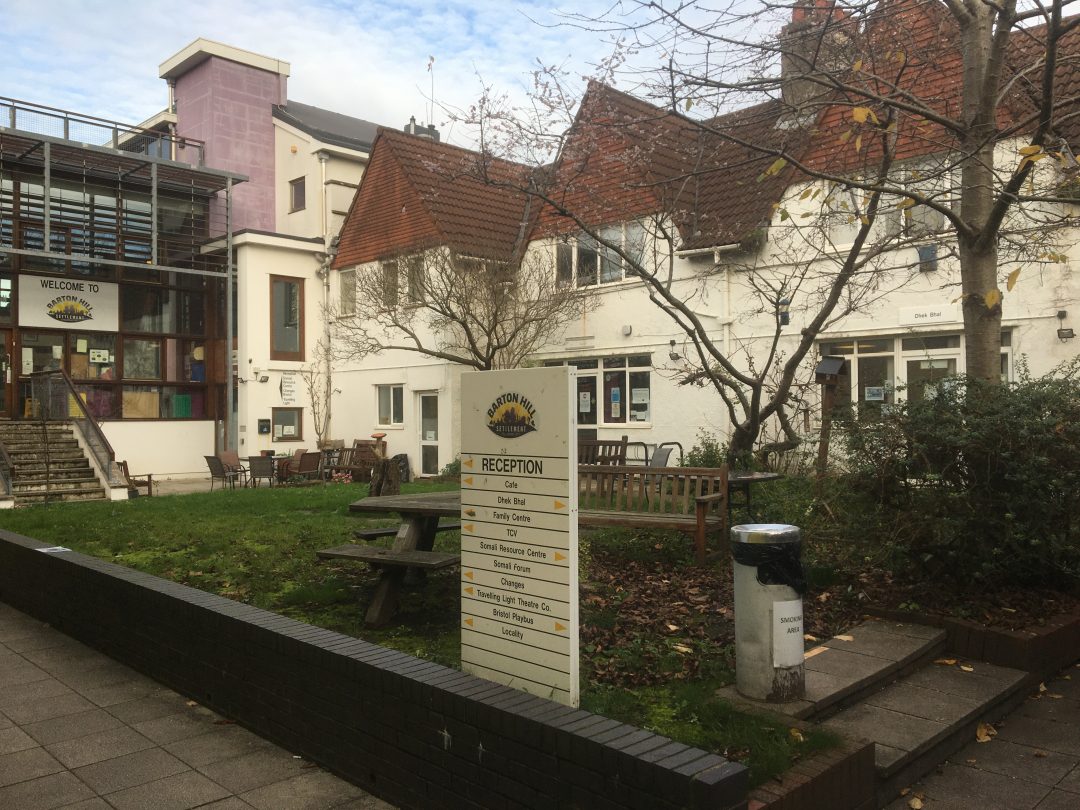 "I want to go to Ethiopia to see my family but only if I get 'leave to remain' status. The Home Office say they might deport me to Somaliland or Mogadishu, but in Mogadishu now people are being killed every day by al-Shabaab (a miltiant Islamist group)."
It has been years since he last saw his wife and children. He also suffers from insomnia as a result of anxiety.
Mohamod gets free food from a restaurant on Stapleton Road – now takeaway because of lockdown. If it wasn't for this and BSRC's help he would have to resort to small time crime like shoplifting to survive, he admits.
Lockdown life for those with substandard housing
Halima is a single mother living in rented accommodation in Whitehall, who has also found lockdown a difficult time. Her problems existed before, but the pandemic has made matters worse.
Her poor living conditions are made worse because Halima has had to spend more time at home recently because her children have been self-isolating after a positive case at their school.
When this happens this has meant she is also unable to work because she has to care for her children instead. In the past she would visit friends but now she can't, which has adversely affected her mental health.
"My daughter's asthma is getting worse because of the damp condition of the house. We are living in a small house with six people: myself and my five children. We have two bedrooms and it's in a very bad state. It has been like this since 2018."
A sewage pipe that goes through the corridor has broken and is leaking. There is also a leak coming from the toilet in the flat above, and some of her appliances are not working.
"There is a bad smell and it's not healthy," she says. "The private landlord is aware of this but said the pipe can't be fixed because it requires heavy work that goes under the house." The matter has now been taken up by the council who are expected to force the landlord to make repairs.
"Lockdown has been tough but the community at BSRC have been helpful by bringing food and also checking that I am getting the right benefits."
"I work 16 hours a week as a care assistant in someone's home, but normally I can only do this as long as my children are at school."
When asked if Universal Credit is enough to live off, she replies: "It has been a struggle sometimes to afford to feed all six of us. I haven't got any choice but we are surviving."
"I'm worried because the children are all at school and sometimes students at the school have tested positive. I think I am also at risk from catching Covid when I go to work."
"I tend to stay in bed quite a lot at the moment because of the way the condition of the house is affecting us all and our emotional wellbeing. Sometimes I feel helpless because our situation doesn't seem to change but I accept it. It's God's will."
As someone who has witnessed the hardship endured by many Somalis over this and the previous lockdown, is Saed hopeful for the future?
"Covid coupled with lockdown indiscriminately hit everyone, and unless drastic measures are put in place, the condition of those that have been most affected will get worse," he says.
"I have hope that additional funds could be assigned to set up some sort of emergency task force to help people in our community. It would be nice to see some recognition of the needs of the people that we encounter every day."
Whether Saed's wishes come true remains to be seen, but in the meantime BSRC will continue its community work as Bristol moves from lockdown into Tier 3 restrictions this week.
https://www.bristol247.com/news-and-features/features/on-the-road-with-volunteers-helping-some-of-bristols-most-vulnerable-people/
On the Road with Volunteers Helping some of Bristol's Most Vulnerable People
July 23rd 2020. Published by Bristol 24/7.
Community groups have been leading work to provide vital supplies to some of the most vulnerable people throughout the city as the lockdown has exacerbated levels of poverty.
Saed Ali, chair of the Bristol Somali Resource Centre (BSRC), decided a few days before lockdown to set up a task force with just a handful of volunteers to help some of those struggling by providing food boxes.
"It was a community-led initiative at the start," explains the Barton Hill resident.
"Almost 200 people gathered on WhatsApp. Several members of the Somali community donated £20 each and we also had £5,000 of funding from the Bristol charity Quartet Community Foundation.
"It was a way of helping vulnerable people in the city because it is very hard for them to get sufficient food because of the lockdown and for some of those who have underlying medical conditions are unable to go and get their prescriptions from the pharmacies."
Saed has a couple of colleagues working with him at BSRC. One of them, Abib, gave an insight into why many people now require their help.
He said that people were already struggling because many Somalis, as well as others from ethnic minority backgrounds, find they can only get work in the gig economy, even if they are highly qualified.
"Many of them are care workers, cab drivers, bus drivers, security guards, warehouse workers and so on," says Abib.
"Most of them work through employment agencies on temporary contracts. When lockdown started and the government announced the furloughing scheme for workers, all of those on temporary contracts were laid off with their only option to apply for Universal Credit."
At the BSRC one Friday afternoon, Saed and his co-worker, Abdullah, are alone in a room piled with Morrisons bags with their handles tied.
"Depending on the size of the family, we will deliver either one or two boxes. They include essential items like rice, pasta, cooking oil, tuna, cleaning products, tissues and gloves," explains Saed.
One of the people receiving help from the task force is Muhya Hussein. He has a wife and three young children. Before lockdown he was working as a caretaker in a school in Bristol and as a taxi driver for Uber.
The school laid him off without any pay. He is still trying to work as a taxi driver but says that in two or three hours he might only get one job worth around £5-8.
He has a limited amount from Universal Credit since the start of lockdown.
"I've had no money for a month," he says. "It's very hard."
Saed says his team has now reached out to more than 500 individuals or families, regardless of their origin or background.
As Saed was doing the rounds to deliver to various households, they have often given him the names of others who are in similar circumstances.
"We put our phone numbers up on the groups so that they can call us in the middle of the night and ask 'Is there any food this week?' 'We are working 24/7. That's 24/7 since March 20," he says.
He has visited almost every area of Bristol and beyond. The gratitude from people is evident when he turns up on their doors.
At the time of writing, Saed is still making daily visits for those in need and is always positive, laughing and chatting as he works.
He says since the lockdown has started to ease, his small team has seen a 50 per cent rise in those requiring basic provisions.
"We are struggling in terms of budgeting," he says. "We will still try to accommodate those people. Surprisingly when we are expecting it to decrease the number has gone up."
https://www.thetablet.co.uk/features/2/17711/climbing-the-tree-of-life-the-benefits-of-education-outdoors
Climbing the tree of life: the benefits of education outdoors.
March 12th 2020. Published by The Tablet.
Forest Schools can offer a vital alternative to young people who are struggling, allowing them to develop self-esteem and confidence through hands-on learning.
Joe Corrick is not what you'd expect of a teacher – he is well-built and has longish blond hair that reminds me of surfers I've met in the West of England. He wears a green rugby shirt, dirty jeans and sturdy workman's boots. His look is more that of a tree surgeon than educator, but that's because Otterhead Forest School (OFS) – the school he manages and runs along with his team in Somerset – is no ordinary school.

There are Forest Schools all over the UK, categorised as an alternative provision provider: in other words, a place that can offer training for children outside of a mainstream school. According to the Forest School Association: "Forest School … offers all learners regular opportunities to achieve and develop confidence and self-esteem through hands-on learning experiences in a woodland or natural environment with trees."

Although all Forest Schools focus on working with children in an outdoor setting, each school is free to decide what approach to take. At OFS, there is a strong focus on developing social and emotional well-being, which means the majority of those who attend here have needs that can range from low confidence to complex behaviour as a result of trauma earlier in the student's life.

OFS is based next to Otterhead Lakes in the Blackdown Hills in Somerset, in a magical wooded valley and garden that are part of the Otterhead Estate (Otterhead House was knocked down in 1952). There isn't a classroom in sight, only 230 acres of woodland and a huge old barn with a dining and kitchen area, a tool room and a studio where children can DJ or produce music.

Inside, there are boots lined up neatly and waterproofs. There's a long table and work surfaces for wood or metal work. There are also photos on the walls of various kids doing activities, for example making fires or fishing. There is a sense of purpose here and a buzz among the staff and students.

Corrick says there is no common thread that links the children apart from the fact that they need some sort of personal and emotional development. They can be of all ages, from four to 17. Some will come for six weeks, others stay for years. The majority come for one day a week every week during term time.

He goes on to say that at Otterhead they have some children from stable and secure homes while there are others who are suffering trauma from abuse, or who have autism, and there are many who are in care. Others might already be in trouble at school and they are here as a way of preventing them from getting into more trouble and possibly being excluded. Then there are those who have already been permanently excluded and they come to OFS as a way of getting them to re-engage with education further down the line.

Corrick and his team place huge importance on individual attention and giving the children the autonomy to lead their own learning. On a normal day, Corrick will have a "rough plan" of what they'll do. "We will normally go for a walk to give the kids a chance to settle", before allowing the individual students to decide where they would like to go and what they would like to do. Often the kids build "positive attachments" to certain areas of the woods, for example where there is a certain camp.

"Eighty per cent of what we do is about building relationships," Corrick says. They regularly have children attending who may "struggle to follow instructions or cope emotionally". It may take time but he is keen to emphasise the importance of "shared positive experiences" that will eventually break down barriers and allow the team to start introducing coping strategies.

OFS often has among its pupils children who are in care. Corrick tells me that OFS can have a hugely positive impact on some of these students: "We become the consistent part of their week, especially kids who might get moved around care homes."

Even if other parts of their lives undergo major change, Corrick makes it clear that he and his team always want to maintain the consistency that OFS ensures for them. "OFS … remains a consistent, safe, positive part of a young person's week while other factors change around them," he says. "They turn up here every week. They have the same members of staff. They know what to expect. They're welcome every week. They can't get it wrong – tasks and activities are designed to be achievable. Even if you smashed our office's window in, it doesn't matter. Next week we reflect and start again.

"All behaviour is communication and our job is to unpick and support. Challenging behaviour indicates a need and we are here to meet young people at their level of need. Extreme behaviour is rare, staff are highly skilled at de-escalation and our environment is the greatest tool we have for keeping calm."

Corrick understands that mainstream schools have to operate a sanctions policy, but this can have disastrous consequences for some children. "I guess schools haven't got that flexibility. There has to be an immediate consequence – OK, you're excluded." He says, for some kids, especially for those in care, schools "are reinforcing the cycle of rejection" and the children often end up with an attitude of "what's the point? They don't want me anyway".

The hope is that the children's success at OFS will be recognised at their mainstream school, which in turn will boost their self-esteem. Corrick tells me there have been a lot of success stories. He says that there are many children who "have changed after coming to Forest School. It might take a year. It might take four." Some have come back as volunteers or practitioners.

A recent initiative at OFS involves the interaction of students with older people who have early-onset dementia. It's a role-play exercise in which the students cook and provide food as well as helping the older people with craft skills such as making a bird box. "There's no barriers in terms of prejudice", says Corrick, as it's the adults who are reliant on the students and the benefits are invaluable. "For once, it's the adults who are vulnerable, and it elevates them [the students] from their usual identity that is normally 'I'm the one who needs help'."

Corrick says the project has been a great success, with both groups benefiting from the experience. They held a fete where the local mayor visited, and the same group of young and old went to Lyme Regis for a day by the seaside, a first for several of the kids. This seemingly incongruous young- and-old mixed group is next going to work together designing and setting up its own Taunton Flower Show garden.