jamesrogerson.com
I am a freelance journalist and blogger based in Bristol, UK.
Having been a Secondary English teacher since 2008 I completed a diploma in Freelance and Features writing from the London School of Journalism in 2020. I have had articles published in The Tablet, Bristol 24/7 and The Bristol Cable.
I am also a travel writer and have had articles published in Intrepid Times and TNT magazine.
Examples of these appear below and unpublished articles appear in the blog.
In addition to writing articles, I am also a keen walker and I've kept a travel blog about walking.
You can find it here:
http://www.akindofwander.wordpress.com/
A tale of tall ships and lochs of water
The Sublime Beauty of St Kilda
December 1st 2021. Published by Intrepid Times.
A traveler explores a remote Scottish island known for its beauty and sense of isolation.
The mist-covered silence of the Atlantic was interrupted by a shout from the stern of the boat:
"There!"
A jagged edge, like a torn edge of paper, traveled from the mist and dropped into the sea off the port bow. It didn't seem real: a cliff edge that seemed to float in mid air. Dark, igneous rock, formed by a volcano 55 million years ago, broke the sea line. Then, it disappeared into nothingness.
Foam frothed at the rocks' base. The gray of the cliff edge rose steeply and was part covered with the green of grass and moss. Loose stones seemed to teeter impossibly on the bottom of the slopes. The pure white forms of sea birds dropped from vast cliff tops somewhere up in the gloom and then melted away into the mass of low cloud.
It was the first land we had seen for twelve hours.
Everything was silent. The ketch idled while waves lapped at the bow. There was a gentle creaking of the timbers underfoot. The masts seesawed from side to side like a slow metronome. My eyes looked to the rocks, straining for any clues as to what these islands held in store.
This was my first sight of Hirta, the largest and only ever inhabited island of the St Kilda archipelago. St Kilda lies 40 miles or 64 km from the next nearest land of the UK, North Uist. 40 miles on land doesn't sound or seem like much. Yet 40 miles of the Atlantic Ocean between two places can make somewhere feel worlds away.
This small group of islands is the only dual UNESCO world heritage site in the UK. This reflects its significance both for its history and its wildlife. For more than two thousand, years a community survived on this outpost, the most remote community in the UK. The population was never more than two hundred people, and when the final inhabitants were evacuated in 1930, the community numbered just 36.
St Kilda is also home to the second largest colony of gannets in the world and has the largest population of Atlantic puffins in the UK. It also has two species of animal that are unique, the St Kilda wren and door mouse.
I have arrived as part of a voyage aboard a tall ship along with eleven other guests and a crew of six. It is a ten day trip from Oban around the Outer Hebrides, with St Kilda being the main goal of the voyage.
My transport and temporary home for this trip is Bessie Ellen. Built in Plymouth in 1904, she is a hundred and twenty feet long with two masts and a total of eight sails. She is painted black with bright green lines at the water line and along her gunwales. Her wood is newly varnished; the bronze of the fittings are polished to perfection. For her age she is immaculate.
The following day, the cloud has lifted and it is a bright, warm summer's day. The sky is a uniform blue to the horizon.
From the sea, Village Bay is a horseshoe with two peaks at the end of each peninsula and a ridge forming the bottom of the U. I know behind the horseshoe is the rest of the island. It is less than 7 square kilometers and stretches roughly northwest, after which there is the smaller island of Soay.
The slopes of the ridge slope down to the U of the bay, and as the land flattens it becomes The Street, a line of sixteen cottages built in the 1830s where the last inhabitants of St Kilda resided until their evacuation on August 29, 1930.
The final residents here opted to leave after years of hardship exacerbated by the failure of their crops, increased illness, and the outbreak of World War I.
On arriving at the Village Bay jetty, we are greeted by Sue Loughran, the National Trust for Scotland ranger. She spends six months a year here either alone or with only one other. Various other people, some working for the MOD and others conducting scientific research, also live here temporarily.
She is emphatic about St Kilda's appeal. "It's an iconic, wild, and beautiful place."
Sue hints that its remoteness is part of St Kilda's magic. "Many tourists say this is on their bucket list because they've heard or read about it. I meet people for whom it is their eighth attempt, or they have been trying for years to get here." Conditions in this part of the Atlantic can be notoriously harsh, and the only way to get here is by boat, mostly day trip boats that leave from Skye or Harris.
Sue tells me that many descendants of the original habitants like to visit. "Often, they make up our work parties."
There is an obvious sense of the wildness of a place which is no longer uninhabited. The local Soay sheep wander here, and they're oblivious to our party. Skuas are also nesting here and aren't shy. Sue warns us, "If a skua flies towards your face, just put your hand up and at the last second it'll fly over the top of your head."
I start to explore. The street is a line of one-story, two-bedroom cottages that stretch in a line parallel to the bay but up the hillside. Outside each one is a piece of slate commemorating the names of the families who lived here, including the last person who lived here until the evacuation.
At the back of the street, a network of dry stone walls still marks the fields where the inhabitants farmed their crops.
Dotted all over the hillside are the dry stone cleits, neat piles of stones that look like ancient burial chambers where the St Kildans stored the fulmars, the sea birds that ensured their survival for so long. From the boat out to sea, there are so many cleits they look like polka dots on green cloth.
I climb up to the middle of the saddle at the back of the island behind the village. When I reach the top, I'm stopped in my tracks. The land falls away hundreds of meters to the sea. Conachair is the main peak on Hirta, its side creating the left upper curve of the U I've been walking towards. Yet, the entire north face is a sea cliff that drops vertically into the sea. At 427 meters it is the highest sea cliff in the UK.
I love that "air" at the end of the name. That is what I am most aware of here: elevation, space, air. As I edge to the side, my legs and feet quiver.
Fulmars perch calmly in clefts in the cliffs or swoop and wheel away from it out over the ocean. Often, their intense black eyes fix unblinkingly on me. This is where the men and boys of Hirta would harvest these birds every year, lowering themselves down on ropes.
When I look out, there is flat blue sea in all directions. Vague outlines of the Outer Hebrides are just smoky blue apparitions on the horizon to the south east. The island of Boreray and its neighboring sea stack, Stac an Armin, sit four miles east. Stac an Armin is the rocky outcrop famous for being home to thousands of gannets.
There is only a tiny sheep track to the summit of Conachair. There are two bedraggled sheep at the top and a cairn. The sea stretches for miles in every direction. If a fulmar were to fly due west from here, it wouldn't make landfall until it met Newfoundland. There is a sense of being on top of and on the edge of the world. A sense of excitement, fear, and wonder rolled into one.
I feel a sense of the sublime in the traditional sense. Edmund Burke described it as, "The passion caused by the great and the sublime in nature," which he defined as "astonishment is that state of the soul, in which all its motions are suspended, with some degree of horror."
As if to emphasize this sense, the brown form of a skua rises out of the moor and clears my head by a couple of meters. Here, as the locals must have once felt, humans aren't so obviously at the top of the pecking order.
The next day the world has changed again. The sky is gray, the air is cool. It's like yesterday never happened. The motor of the Bessie Ellen has started up again. We leave as suddenly as we arrived. Village Bay, The Street, and Conachair recede into the gray just as they must have done to the final evacuees leaving in 1930. I think of Sue almost alone with the island, the wildlife, and the hundreds of miles of ocean for company, wondering if there is anywhere that has the same emotional impact as this strange, remote outcrop.
'People make us out to be anti-social, but we're not': meet the van-dwelling pensioners dividing opinion at the Downs
'People make us out to be anti-social, but we're not': meet the van-dwelling pensioners dividing opinion at the Downs
November 11th 2021. Published by The Bristol Cable.
A community of people living in vehicles on Bristol's most famous green space, which includes a number of older people, faces an uncertain future as some local groups complain about their 'unfair' use of protected land.
On a late summer's day, the Downs are at their best. Groups of walkers wander here and there, while students play sports where the fresh-painted touchlines signal autumn's approach.
On Parrys Lane – a short one-way road that transects Durdham Down as it reaches Henleaze – the longest of a group of motorhomes has its door open, with an Alsatian tied up on the grass outside. Cameron MacSween, 79, a well-spoken and articulate ex-president of the Chamber of Commerce for Dover, sits at a table beside the door, a suit hanging up behind him.
MacSween has been here on and off for two-and-a-half years. Before the pandemic he was travelling around Europe and the UK, before being forced to stay here by the lockdown restrictions. He is one of three men in their seventies who have been living here in a community of van-dwellers.
There has been an increase in van-dwelling in recent years as a result of an increase in house prices and rents – and Bristol has been one of the places most affected. The presence of older people like MacSween at Parrys Lane underscores the extent to which the housing crisis, coupled with coronavirus restrictions, has increased the diversity of people living long-term in vehicles.
The Parrys Lane van-dwellers have divided local opinion, with some residents – notably a group called Respect the Downs – complaining about them staying semi-permanently on protected land. The van-dwellers, and other locals, believe they cause no nuisance and are a beneficial presence.
MacSween says the Parrys Lane community is crucial for his health and wellbeing. "I've lost a lot of my mobility – I have problems with my knees and I'm having treatment at Southmead Hospital," he says. His neighbours help him to move in and out of his van, and to buy essentials, he adds.
He is quick to refute claims of nuisance at Parrys Lane – which include "human waste in the surrounding area, littering, anti-social behaviour and the creation of a no-go zone for Bristol residents" – made by Respect the Downs.
"I think they've got it wrong," he says. "They publish disinformation, such as pictures of rubbish here. We don't tolerate rubbish in any conditions. They make us out to be anti-social [which] we're not."
'You need a safe place'
A few doors down from MacSween sits a white Transit van, the home of Dave Turton, who is 56 and has an autoimmune disorder.
"Living in a van, you need a safe place," he says. "Before the pandemic I'd go to Cornwall for summer and Spain for the winter. I drove back from Spain and got locked down here."
Turton says there are seven or eight regulars here, but that most people come and go. "A lot of people are living in vans [because of] the housing crisis," he says. "There are people who stay the night because they're working in Bristol. They can't afford to live here.
"Before Christmas I spoke to about 200 people in Henleaze," he continues. "Most don't care about us being here."
Both MacSween and Turton emphasise the sense of community at Parrys Lane – something Bristol City Council's Unauthorised Encampment Policy for Vehicle Dwellers cites as a key reason why people living in vehicles gravitate to the city.
"The police tell people to come here because it's a safe place," Turton argues, referring to a female van-dweller who was subjected to sexual harassment on a different part of the Downs and was moved here to be safer – and is still there.
An unfair use of the Downs?
Robert Westlake, the chair of Friends of the Downs, a volunteer organisation set up to "preserve and protect the Downs", agrees with some of the points made by MacSween and Turton. "To date the 'self-management' of the site seems to be working, and the van-dwellers in general appear to behave responsibly and, to some extent, contribute to the Downs," he says.
Westlake adds that he understands the issues that have contributed to van-dwelling. "Homelessness, unaffordable rents, proximity to work opportunities, hospitals and relatives are all relevant factors," he says.
Steve Smith, the chair of the Downs Committee – and a councillor for Westbury and Henleaze and the current Lord Mayor – does not dispute this. But he says what most residents complain about is the unfairness of van-dwellers living on the Downs when they are not meant for this purpose.
"If you wanted to set up a new community by building houses or setting up a caravan site you wouldn't get that consent on the Downs because they are protected," he points out. "Yet that is what we've got – there is a semi-permanent community of people living there and no process has been followed by the council."
Smith says Respect the Downs have made two proposals to the council. "The first is to review the parking restrictions across the Downs," he says. "The second is to close off Parrys Lane and rewild it."
Residents know this isn't the solution, Smith goes on. "Most people know that the only way to get the problem fixed is to have decent places where people who choose to live in vans can do so safely and with some control over their own environment," he says.
What next for Parrys Lane?
The council launched a van policy in 2019 to deal with the fact there were a growing number of people living in vehicles on the road. The policy categorised encampments as high- and low-impact and outlined council and police powers to move people on.
At the start of the pandemic the council provided two temporary sites for the city's travelling communities, to allow them to self-isolate. While it has not been able to maintain all this extra capacity, it has since opened further provision, most recently on the site of a former Knowle West primary school.
At a Downs Committee meeting in July, it was revealed that the mayor's office had put forward Respect the Downs' proposals for the committee's agreement, with Green councillor Paula O'Rourke arguing for the importance of finding a different site. "There has to be a solution which doesn't push our problem across the city and penalise and punish those people who don't really have any choice about where they live," she said.
The committee has written back to the mayor's office to ask if there is an alternative site available for the Parrys Lane group to move to. With no decision yet taken, the future of MacSween and Parrys community remains precarious
Run-ins with punters, logistical challenges and financial fears: the Bristol pubs waiting for news on restrictions ending
June 10th 2021. Published by The Bristol Cable.
Customers have been relishing the opportunity to get back in their favourite boozers, but many pubs are finding post-Covid work practices tricky – and worry about surviving the next few months.
Bristol pubs opened their doors on 17 May after 14 months of closures, restrictions and false dawns.
It's been a great relief for customers and stalled businesses alike, but in many local communities pubs are still struggling after a year in which just staying afloat has been a huge challenge.
The expectation – for now – is still that the government will lift remaining restrictions for pubs on 21 June. Yet there is also increasing speculation that the Delta (aka Indian) Covid variant will lead to further delays.
With new figures revealing that just one in four of pub businesses feel confident of surviving the next three months, these are worrying times for many landlords – albeit better than February when just 1% said they were high confident of making it through the next quarter.
Despite the gradual reopening of premises, starting with outdoor drinking on 12 April, many were still recording "significant profit losses" according to the Office for National Statistics (ONS).
'It has been really scary'
The John Harvey Arms in Whitchurch is a big, open-plan pub in the middle of a housing estate. This is a community pub whose customers nearly all come from the surrounding area.
The owner, Sue Diaper, is 64 and has been running it with her partner for the last 10 years.
Sue is grateful for the £10,000 government grant that she received last summer without which, she reckons, "every pub in this country might have closed". But the money hasn't been enough, she says.
She is referring to the £20 billion of grants that the chancellor, Rishi Sunak, made available to small businesses in March of last year. In total Sue has received £15,000 since March last year, based on the rateable value of her pub.
Nonetheless, she and her partner have had to borrow another £16,000 from a bank to keep their business going.
"I reopened with £1,000 in the bank. It has been really scary," she says. "Even though we've been closed we still have to pay the rent and utilities. I'm now in debt to the tune of £8,800 to our brewery."
'We've had to change how we operate'
Five miles away in the very different surroundings of Clifton Village, the Bristol Fringe is known for its live music and hosts a mix of regulars and others who enjoy a good night out thanks to its late licence.
The main bar has a homely feel: there is a bookcase opposite the small bar, a leather sofa and tables with old lamps providing low light. There is also a small back room with a stage which used to host gigs. Now, it's filled with furniture from having to redesign the layout as a result of Covid restrictions.
The owner, Sylvie Dagallier, and her staff have struggled. "We've had to spend a lot to change the way we operate," she says. The Fringe changed from a music and drinking venue to doing food and coffee as well.
One important problem many pubs have had is around having to use table service. This is as a result of the restrictions that were put in place when hospitality venues were allowed to reopen at the end of the first lockdown in July last year.
The rules of table service, contactless ordering from tables, and encouraging punters to social distance and sanitise their hands are still in place, but they will be lifted on 21 June if the easing of restrictions goes ahead.
Sylvie says that Fringe customers can become frustrated with the new way of ordering. "Many of them are impatient to have their drink right away, but with table service people have to wait longer," she says.
Back at the John Harvey Arms, Sue has also struggled as a result of having to use table service: "I've had to take on four extra staff, which has increased our overheads dramatically."
Meanwhile at the Volunteer Tavern, nestled among plane trees between Old Market and Cabot Circus, manager Amy Bright has had a similar experience.
This traditional pub is – like a fair few of Bristol's older watering holes – tiny, but has a large, covered beer garden. Multicoloured light bulbs surround the decking. Dogs wander around at will. There is a colourful crowd here: mostly young punters.
Amy is in her twenties, and dressed in a bright pair of dungarees. "We've had to bring in extra staff because of table service and reminding customers about the restrictions, but also setting up takes so much longer," she says. "Cleaning every table, filling up the sanitiser dispensers, sanitising the loos, writing down table plans. Everyone is having to work harder.
"We took on two extra staff for the bar and three extra in the kitchen," Amy adds. "This has meant the pub has had higher expenses to deal with, while having lost money through the pandemic and having to take on loans."
'Increased drunkenness and sometimes aggression'
But problems faced by pubs have gone beyond simply managing logistics and getting people served in a reasonable time. "Many customers don't want to wear their masks," Sylvie says of the Fringe. "People also seem to forget that they can't have a dance or go and speak to another table.
"We've also had to deal with increased drunkenness and sometimes aggression," she continues. "I think it's because people have been pent up for so long."
Amy agrees that having to police the restrictions has been frustrating.
"Our customers have mostly been amazing," she says. "We have a strong group of regulars who come in who have been so supportive. It's mostly someone standing up without a mask that creates a problem."
On one occasion, she recalls, "we had to chuck out a group of guys because they'd bumped into a group they knew and kept on moving between tables".
In Whitchurch, Sue says she has no such problems with her mostly local customers. But she is still worried about what will happen next. "It's genuinely hard and it's depressing," she says. "We don't earn a huge amount of money anyway, but I do it because I love it. My biggest worry now is [over whether] everything will be lifted on 21 June. It doesn't look like it will be."
June 9th 2021. Published by The Bristol Cable.
Reluctance to take the Covid-19 vaccine is down to misinformation and historic mistrust, experts say. But community-driven campaigning is driving change.
The five areas in the city with the highest populations of ethnic minorities are also the five areas with the lowest Covid vaccine uptake, analysis by the Cable has found.
But Bristol has been proactive in tackling the disparity, with a targeted campaign to answer people's questions and fears around the vaccine and to take vaccine clinics into communities. "The only way we have is for trusted people to have the vaccine and to talk about their experience," said Mohammed Elsharif, Community Development Manager for Bristol City Council's vaccine campaign.
Up to 30 May, the average rate of people in Bristol who are 50 or older and have had at least one Covid jab is 88%. But in St Pauls, Upper Easton, Barton Hill, Lower Easton and Temple Meads, the average uptake is just 70%, the Cable found in an analysis of NHS vaccination data of areas in Bristol.
The lowest vaccination rate among over-50s in the city is 68% in St Pauls, which compares to the highest uptake of 97% in Whitchurch Park, an area which is 98% white – the highest in the city, according to the 2011 census which is the most recent data available. While the census data is 10 years old, it is still used by Bristol City Council and the Office for National Statistics for estimating the ethnic backgrounds of communities in different areas.
Part of a UK trend
Vaccination rates tend to be much lower in areas with greater deprivation. According to the ONS, 87.8% of adults aged 50+ have had at least one Covid jab in the most deprived areas, compared with 94.5% in the least deprived areas. However, ethnic group is a stronger predictor of whether someone has had a Covid vaccine, with 94% of White British people aged 50+ having had at least one dose, compared to 69% of Black people.
This follows a trend seen in the rest of the UK, and was predicted earlier this year when polls showed that there was greater reluctance to take the vaccine in minority ethnic communities. Data analysed by the Guardian showed a similar situation to that seen in Bristol.
A recent survey by the Office for National Statistics conducted in April found one in three Black or Black British adults reported vaccine hesitancy, making them the most vaccine hesitant ethnic group, and five times more hesitant compared to White adults.
Across the UK, vaccination rates among those aged 50+ were lowest for those identifying as Black Caribbean (66.8%), Black African (71.2%) and Pakistani (78.4%). Although lower than that of the White British group (93.7%), the vaccination rates among people identifying as Indian (90.9%) and Bangladeshi (86.9%) remained high, according to the ONS.
Why the large differences in uptake?
"There is a real variety of reasons around hesitancy," Elsharif told the Cable. These include concerns around how safe the vaccine is, if it complies with the dietary requirements of different faiths, historical relations around institutions and previous experiences of discrimination. There's also not enough information aimed at specific communities, such as information in different languages or addressing faith-specific concerns.
All this was made worse by anti-vaccine campaigns and misinformation. There have been well publicised accounts of conspiracy theories surrounding the vaccines, which have often targeted minorities. Some have claimed that there are dangerous or unpleasant side effects to the vaccines; others have claimed the Covid vaccines contain pork gelatine.
None of the Pfizer, AstraZeneca or Moderna vaccines being rolled out in the UK contain pork and all have been declared Halal.
Undocumented migrants or asylum seekers could have additional fears around going to a regular vaccination clinic, said Zoe Gardner, ​Policy Advisor at the Joint Council for the Welfare of Immigrants, a campaign organisation. She said that the hostile environment has made people scared of getting a Covid vaccine for fear of being shopped to the authorities.
"Everyone should feel confident and safe when it comes to getting their Covid jab. But while NHS charging and data-sharing regimes remain in place, many migrants won't get the vaccine for fear of arrest, deportation or extortionate fees.
"While Covid jabs are free for all regardless of people's immigration status, the government's hostile environment policies and their poor record of building trust with migrant communities, will impede vaccine take-up. For the sake of everyone's health, the hostile environment must be scrapped."
'We can't ignore people's worries': What Bristol is doing about unequal vaccine uptake
The inequality in vaccine uptake wasn't a surprise to Dr Huzaifa Adamali, a respiratory consultant at North Bristol Trust. He joined the Pandemic Board of Bristol and the council's Race and Equality Group after seeing from the front line how Black and Asian people were disproportionately affected by coronavirus. In inner city Bristol, where there's a high population of people from ethnic minority backgrounds, he said he'd seen "high levels of Covid, high levels of Covid deaths in these populations, and low uptake of the vaccination."
He said that health and community workers in Bristol have been proactive in tackling the disparity in vaccine uptake by building on seasonal flu drives. The disparity in Covid vaccination uptake is similar to that of the seasonal flu vaccination uptake in these same communities.
"I said to [Deputy Mayor of Bristol] Asher Craig and [Bristol Mayor] Marvin [Rees], if it's to translate this to the Covid-19 vaccination we will be scuppered because the same reasons are going to be the cause for the low uptake of the vaccination."
In response, the council's Pandemic Board designed a model of community engagement around the flu vaccine, which ran from October last year with the vaccines delivered in January. That campaign was then replicated in March, this time to increase engagement with the Covid vaccine.
The model is simple but labour-intensive: bringing the vaccine to communities by creating vaccine clinics in community and religious centres, getting trusted community leaders and faith leaders to publicly take the vaccine, having 'community champions' to encourage people within their communities to take the vaccine – and sometimes even making appointments with them. They also put on webinars where people have the chance to air their concerns about the vaccine and get answers to their questions, because, said Elsharif, "We can't ignore people's worries."
"Really the whole engagement around the vaccine moved from being NHS or Bristol City Council, to the community champions and the communities leading on it having a community-driven campaign."
One of these community champions is Naseem Talukdar, founder of homelessness charity Feed the Homeless and campaign group Curry Connect. He helped out in a clinic aimed specifically at undocumented migrants and people who are homeless, people who aren't registered with GP and "don't know what underlying problems they could have."
"They're off the radar and generally move around a lot," he told the Cable. And many whose immigration status doesn't allow them to work may still have to work to survive, "so they're exposed and very vulnerable." The clinic, in Easton Community Centre, worked on alleviating fears around immigration enforcement and confirming their details wouldn't be shared.
The importance of having answers in your own language
Zahra Kosar is a social worker and a full-time member of the team at Bristol Somali Resource Centre (BSRC) where she and two Somali nurses have been running an information campaign since January on social media, Zoom meetings and through face to face meetings at the BSRC.
"At each event there were at least 30 people, mostly women, who we then hope would share the information with their families," she told the Cable.
"People were asking questions to the nurses. Some questions were emotional because some of these people have believed in what they have seen on social media. This gave them the opportunity to ask questions in a more accessible way in their own language."
"The questions they were raising were things like if the vaccines are Halal or not, or if it has side effects. I think those are valid questions and the community shouldn't be labelled as anti-vaccine as a result."
She added that they've been engaging with Arab speaking communities too, using translators.
She says that people trust the programme more now these issues have been clarified by doctors and imams.
"Some of them who were reluctant to take it, we now know have taken it. I have spoken to many people in the community who have taken their vaccine or who are waiting for their time to come."
Recently, the BSRC set up its own vaccination centre at its home in the Barton Hill settlement. On one day alone they had 100 appointments, mainly from members of the Somali community, but there were also others from Syria, Bangladesh and Afghanistan.
Adamali said he's hopeful that this model will be used in the future to drive engagement in other health conditions that disproportionately affect people from ethnic minorities.
"Because we've got higher rates of heart attacks, higher rates of diabetes, cancer, sickle cell disease, genetic diseases all within these ethnic minorities. We know that they suffer more from cardiovascular deaths and they have early ageing. And we know that BME women suffer at least five times more from deaths in childbirth than White women."
Beloved Bristol brewery forced to ask for crowdfunding to stay afloat
February 19th 2021. Published by The Bristol Cable
Dawkins Ales, which also owns popular Bristol pubs, is calling for help from local people to save the business from falling victim to Covid-19.
One of Bristol's best breweries and the owner of some of Bristol's most characterful pubs has launched a campaign to save their business after they announced Covid-19 has destroyed most of their revenue over the last 12 months.
Based in Easton, Dawkins Ales supply more than 100 pubs and restaurants, but brewing has been suspended because of low demand during the pandemic.
The brewery also owns a handful of much-loved small pubs across the city, including The Miner's Arms in St Werburgh's, The Hillgrove and The Green Man in Kingsdown, The Victoria and The Portcullis in Clifton. These traditional boozers are known for serving real ale with less emphasis on frills like comfortable seating or gastro food.
Yet the future of these Bristol institutions and the brewery behind them is now under threat – the latest casualty of the ongoing Covid crisis. Today, owner Glen Dawkins and his team are launching a crowdfunding campaign to save the business from going under – to pay to maintain the brewery.
Glen is making a heartfelt plea to the local community, admitting in a sombre tone: "It's tough… and we're hanging in there, but the truth is we're struggling and we need your help."
When I video call him, he is surprisingly energetic, positive and humorous – he doesn't look like a person whose business could be about to go down the spout after 20 years.
"Pubs and independent shops were 99% of our trade before the pandemic," he says. "Once pubs closed in March of last year, we pivoted towards home deliveries but we still lost about 90% of our trade."
Business picked up last summer and when pubs could sell takeaway drinks, but this hasn't been possible since before Christmas. "Unfortunately we've gone through our reserves, but we've still managed to hold onto all our 5 members of staff – who are employed and not furloughed – so we're doing the crowdfunding to bridge the gap before pubs can reopen again," he says.
Dawkins Ales is just the latest hospitality business in Bristol to speak out about the struggle to survive the pandemic. Before Christmas, the Bristol Association of Restaurants, Bars and Independents (BARBI), told the Cable thousands of jobs were at risk if businesses didn't receive more financial support. BARBI have since launched a new app to challenge Deliveroo by helping food businesses get better value for money on takeaway orders.
Looking ahead, Glen says: "The pubs will probably open late Spring or early Summer and I hope that we just scrape through to then. If we went beyond a few months then it would be a real risk as we'd have no cash left."
Pubs in peril
Another problem is the tenants at their pubs: "Some are deferring rents but we're still having to pay rents on all the sites," Glen says. "If I can keep on the good side of the freeholders then things should be OK, and most tenants pay their rent every week, but obviously the pubs are making no income, there's still utilities to pay so it is difficult."Read moreLocal delivery app launches to 'save' Bristol's independent bars and restaurantsBristol hospitality sector under threat pleads for rent help from council and government
"For most of our pubs, it is the tenant's business so they are really hit, and like a lot of self-employed people not all of them have had help from the government and so they have fallen through the cracks."
Dawkins Ales, which started brewing in 2009, was one of the first of the new wave of smaller breweries set up in Bristol since the turn of the century. Best known for their Easton IPA, Dawkins have won awards for several of their beers.
"There were only four or five small brewers when we started, such as Bath Ales," says Glen. "People then were making traditional real ales and now there are at least 30 breweries in Bristol and styles have all changed."
In return for donating to Dawkins, the brewery is offering various 'rewards' each one named after one of their beers, from a £10 'Bristol Best' Summer Beer Fest Ticket to a £500 'Holy Mole' reward where you can hold your own private party at the brewery.
Glen hopes the local community will be able to offer support. "It's because we've been part of Bristol for so long and it's home, we feel as though we're part of the community, so hopefully people will want to invest money and then they'll get something back."
Helping people from Bristol's Somali community deal with lockdown 2
December 1st 2020. Published by The Bristol Cable
For members of Bristol's Somali community already living in difficult circumstances, the second lockdown has made life even harder. But the Bristol Somali Resource Centre has stepped in.
"Since July, I've struggled to live off Universal Credit. I lost my job after an injury to my back. Since then I have had to rely on Universal Credit. It was suddenly reduced by £80 a month but they didn't tell me why. During lockdown I've found it hard."
Khadra is a 40-year-old single mother with three children. She lives in a flat in a high rise block in Barton Hill. Her story is typical of what the staff at the Bristol Somali Resource Centre (BSRC) based at Barton Hill Settlement are having to deal with more and more since the start of the second lockdown.
The team of four permanent staff there have been working hard during the pandemic to help people from their own community and other minorities in Bristol. Usually, they help people with all sorts of things, from benefits and housing, immigration and jobs.
"It was like going from paradise to hell but BSRC helped me once again. Just in the last week they have given me money to live off, without which I couldn't survive."
But this role has changed since March. They are now seeing an increase in people in dire need of basic necessities and also more people suffering from a range of mental health problems exacerbated by the pandemic.
As a result they have set up a task force to deliver food to people who are finding it hard to survive on Universal Credit. They have also employed an extra person as a mental health counsellor.
Before Khadra's injury she was working as a care assistant in a care home, but her employer has not paid her any sick pay nor has she got any extra benefits for her condition. She was working for six months but on a zero hours contract.
Saed Ali, one of the key workers at BSRC, has come across this many times before: "Companies using zero hours contracts are exploiting people. When workers are fit they are OK, but if their condition changes they are entitled to nothing."
Khadra doesn't speak English, which makes it more difficult for her to communicate with the relevant authorities. This is why she has had to use BSRC.
BSRC have now established that Khadra's Universal Credit deductions were being taken for rent arrears but through a combination of language difficulties and poor mental health, Khadra had not been able to establish this.
It's particularly hard to get through to anyone about Universal Credit because people are working at home, says Saed. "Often you are on hold for up to 40 minutes and sometimes after a certain amount of time they just cut you off."
"This has been the worst part of lockdown – not being able to communicate with either the Department for Work and Pensions or council and to show her paperwork. She is missing some sort of entitlement to benefits because of her back injury."
As a result, the task force set up by BSRC has been delivering food parcels to her. "The food that the task force was bringing some days was all we had to survive off," Khadra says,
Lockdown life for those without a home
Originally from Somaliland, 60-year-old Mohamod has been in the UK for 12 years but hasn't been able to work throughout this time because he's an asylum seeker.
He has been refused 'leave to remain' status, which would ensure his right to live in the UK as an immigrant. He originally arrived on a six-month visit so that he could attend the funeral of his son but then didn't return home after.
"I survive from the charity of the people at BSRC and also other people in the local community who put me up and feed me," Mohamod says.
"During the most recent lockdown the British Red Cross have given me temporary payments of £30 per week and Tesco food vouchers."
Luckily he was given a room in the Holiday Inn during the first lockdown but this ended after restrictions were lifted. He then found himself homeless.
"During the latest lockdown I have been staying with a friend. He works nights so when he goes to work I can use his bed. I have lived in more than 200 houses over the last 12 years."
On several occasions, Mohamod has had nowhere to stay and sometimes has had to sleep in bus stops. Lockdown has been hard, he says, but he accepts it saying it is something "written by God".
BSRC has continued to provide Mohamod with basic provisions like food deliveries and money during the second lockdown. They have also helped him apply for legal aid in the process to get leave to remain status.
Mohamod says he is eternally grateful. "After leaving the Holiday Inn it was like going from paradise to hell but BSRC helped me once again. Just in the last week they have given me money to live off without which I couldn't survive."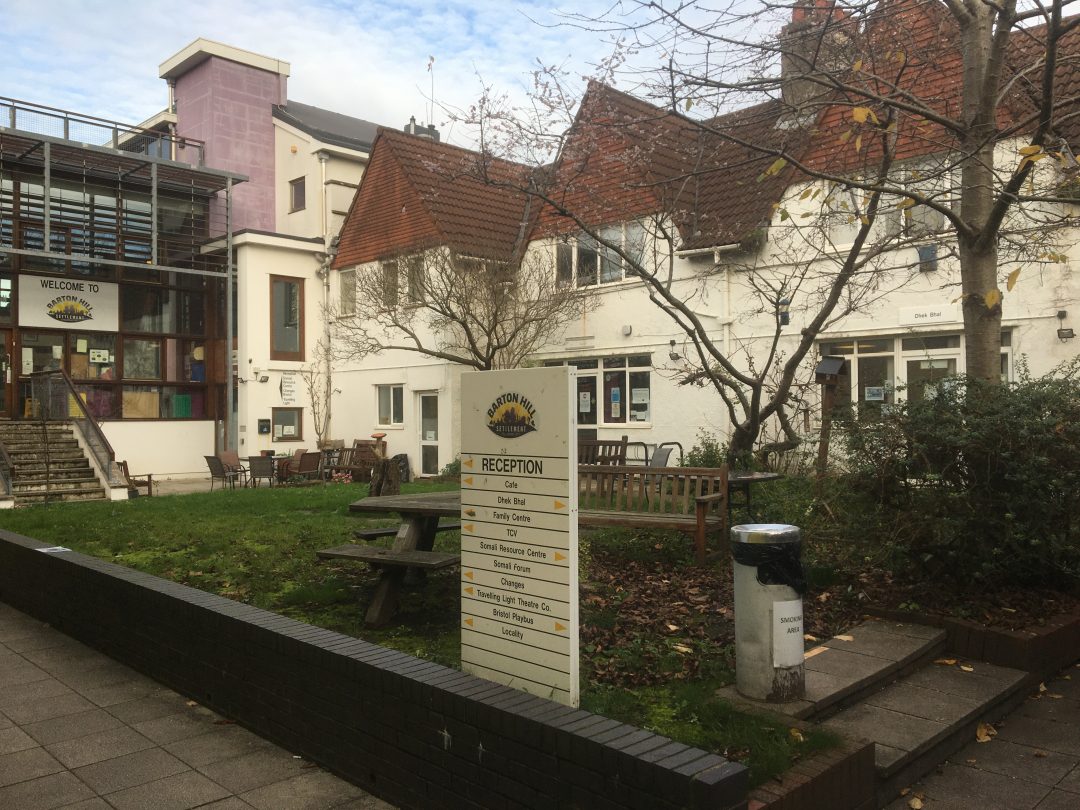 "I want to go to Ethiopia to see my family but only if I get 'leave to remain' status. The Home Office say they might deport me to Somaliland or Mogadishu, but in Mogadishu now people are being killed every day by al-Shabaab (a miltiant Islamist group)."
It has been years since he last saw his wife and children. He also suffers from insomnia as a result of anxiety.
Mohamod gets free food from a restaurant on Stapleton Road – now takeaway because of lockdown. If it wasn't for this and BSRC's help he would have to resort to small time crime like shoplifting to survive, he admits.
Lockdown life for those with substandard housing
Halima is a single mother living in rented accommodation in Whitehall, who has also found lockdown a difficult time. Her problems existed before, but the pandemic has made matters worse.
Her poor living conditions are made worse because Halima has had to spend more time at home recently because her children have been self-isolating after a positive case at their school.
When this happens this has meant she is also unable to work because she has to care for her children instead. In the past she would visit friends but now she can't, which has adversely affected her mental health.
"My daughter's asthma is getting worse because of the damp condition of the house. We are living in a small house with six people: myself and my five children. We have two bedrooms and it's in a very bad state. It has been like this since 2018."
A sewage pipe that goes through the corridor has broken and is leaking. There is also a leak coming from the toilet in the flat above, and some of her appliances are not working.
"There is a bad smell and it's not healthy," she says. "The private landlord is aware of this but said the pipe can't be fixed because it requires heavy work that goes under the house." The matter has now been taken up by the council who are expected to force the landlord to make repairs.
"Lockdown has been tough but the community at BSRC have been helpful by bringing food and also checking that I am getting the right benefits."
"I work 16 hours a week as a care assistant in someone's home, but normally I can only do this as long as my children are at school."
When asked if Universal Credit is enough to live off, she replies: "It has been a struggle sometimes to afford to feed all six of us. I haven't got any choice but we are surviving."
"I'm worried because the children are all at school and sometimes students at the school have tested positive. I think I am also at risk from catching Covid when I go to work."
"I tend to stay in bed quite a lot at the moment because of the way the condition of the house is affecting us all and our emotional wellbeing. Sometimes I feel helpless because our situation doesn't seem to change but I accept it. It's God's will."
As someone who has witnessed the hardship endured by many Somalis over this and the previous lockdown, is Saed hopeful for the future?
"Covid coupled with lockdown indiscriminately hit everyone, and unless drastic measures are put in place, the condition of those that have been most affected will get worse," he says.
"I have hope that additional funds could be assigned to set up some sort of emergency task force to help people in our community. It would be nice to see some recognition of the needs of the people that we encounter every day."
Whether Saed's wishes come true remains to be seen, but in the meantime BSRC will continue its community work as Bristol moves from lockdown into Tier 3 restrictions this week.
https://www.bristol247.com/news-and-features/features/on-the-road-with-volunteers-helping-some-of-bristols-most-vulnerable-people/
On the Road with Volunteers Helping some of Bristol's Most Vulnerable People
July 23rd 2020. Published by Bristol 24/7.
Community groups have been leading work to provide vital supplies to some of the most vulnerable people throughout the city as the lockdown has exacerbated levels of poverty.
Saed Ali, chair of the Bristol Somali Resource Centre (BSRC), decided a few days before lockdown to set up a task force with just a handful of volunteers to help some of those struggling by providing food boxes.
"It was a community-led initiative at the start," explains the Barton Hill resident.
"Almost 200 people gathered on WhatsApp. Several members of the Somali community donated £20 each and we also had £5,000 of funding from the Bristol charity Quartet Community Foundation.
"It was a way of helping vulnerable people in the city because it is very hard for them to get sufficient food because of the lockdown and for some of those who have underlying medical conditions are unable to go and get their prescriptions from the pharmacies."
Saed has a couple of colleagues working with him at BSRC. One of them, Abib, gave an insight into why many people now require their help.
He said that people were already struggling because many Somalis, as well as others from ethnic minority backgrounds, find they can only get work in the gig economy, even if they are highly qualified.
"Many of them are care workers, cab drivers, bus drivers, security guards, warehouse workers and so on," says Abib.
"Most of them work through employment agencies on temporary contracts. When lockdown started and the government announced the furloughing scheme for workers, all of those on temporary contracts were laid off with their only option to apply for Universal Credit."
At the BSRC one Friday afternoon, Saed and his co-worker, Abdullah, are alone in a room piled with Morrisons bags with their handles tied.
"Depending on the size of the family, we will deliver either one or two boxes. They include essential items like rice, pasta, cooking oil, tuna, cleaning products, tissues and gloves," explains Saed.
One of the people receiving help from the task force is Muhya Hussein. He has a wife and three young children. Before lockdown he was working as a caretaker in a school in Bristol and as a taxi driver for Uber.
The school laid him off without any pay. He is still trying to work as a taxi driver but says that in two or three hours he might only get one job worth around £5-8.
He has a limited amount from Universal Credit since the start of lockdown.
"I've had no money for a month," he says. "It's very hard."
Saed says his team has now reached out to more than 500 individuals or families, regardless of their origin or background.
As Saed was doing the rounds to deliver to various households, they have often given him the names of others who are in similar circumstances.
"We put our phone numbers up on the groups so that they can call us in the middle of the night and ask 'Is there any food this week?' 'We are working 24/7. That's 24/7 since March 20," he says.
He has visited almost every area of Bristol and beyond. The gratitude from people is evident when he turns up on their doors.
At the time of writing, Saed is still making daily visits for those in need and is always positive, laughing and chatting as he works.
He says since the lockdown has started to ease, his small team has seen a 50 per cent rise in those requiring basic provisions.
"We are struggling in terms of budgeting," he says. "We will still try to accommodate those people. Surprisingly when we are expecting it to decrease the number has gone up."
https://www.thetablet.co.uk/features/2/17711/climbing-the-tree-of-life-the-benefits-of-education-outdoors
Climbing the Tree of Life: the Benefits of Education Outdoors
March 12th 2020. Published by The Tablet.
Forest Schools can offer a vital alternative to young people who are struggling, allowing them to develop self-esteem and confidence through hands-on learning.
Joe corrick is not what you'd expect of a teacher – he is well-built and has longish blond hair that reminds me of surfers I've met in the West of England. He wears a green rugby shirt, dirty jeans and sturdy workman's boots. His look is more that of a tree surgeon than educator, but that's because Otterhead Forest School (OFS) – the school he manages and runs along with his team in Somerset – is no ordinary school.

There are Forest Schools all over the UK, categorised as an alternative provision provider: in other words, a place that can offer training for children outside of a mainstream school. According to the Forest School Association: "Forest School … offers all learners regular opportunities to achieve and develop confidence and self-esteem through hands-on learning experiences in a woodland or natural environment with trees."

Although all Forest Schools focus on working with children in an outdoor setting, each school is free to decide what approach to take. At OFS, there is a strong focus on developing social and emotional well-being, which means the majority of those who attend here have needs that can range from low confidence to complex behaviour as a result of trauma earlier in the student's life.

OFS is based next to Otterhead Lakes in the Blackdown Hills in Somerset, in a magical wooded valley and garden that are part of the Otterhead Estate (Otterhead House was knocked down in 1952). There isn't a classroom in sight, only 230 acres of woodland and a huge old barn with a dining and kitchen area, a tool room and a studio where children can DJ or produce music.

Inside, there are boots lined up neatly and waterproofs. There's a long table and work surfaces for wood or metal work. There are also photos on the walls of various kids doing activities, for example making fires or fishing. There is a sense of purpose here and a buzz among the staff and students.

Corrick says there is no common thread that links the children apart from the fact that they need some sort of personal and emotional development. They can be of all ages, from four to 17. Some will come for six weeks, others stay for years. The majority come for one day a week every week during term time.

He goes on to say that at Otterhead they have some children from stable and secure homes while there are others who are suffering trauma from abuse, or who have autism, and there are many who are in care. Others might already be in trouble at school and they are here as a way of preventing them from getting into more trouble and possibly being excluded. Then there are those who have already been permanently excluded and they come to OFS as a way of getting them to re-engage with education further down the line.

Corrick and his team place huge importance on individual attention and giving the children the autonomy to lead their own learning. On a normal day, Corrick will have a "rough plan" of what they'll do. "We will normally go for a walk to give the kids a chance to settle", before allowing the individual students to decide where they would like to go and what they would like to do. Often the kids build "positive attachments" to certain areas of the woods, for example where there is a certain camp.

"Eighty per cent of what we do is about building relationships," Corrick says. They regularly have children attending who may "struggle to follow instructions or cope emotionally". It may take time but he is keen to emphasise the importance of "shared positive experiences" that will eventually break down barriers and allow the team to start introducing coping strategies.

OFS often has among its pupils children who are in care. Corrick tells me that OFS can have a hugely positive impact on some of these students: "We become the consistent part of their week, especially kids who might get moved around care homes."

Even if other parts of their lives undergo major change, Corrick makes it clear that he and his team always want to maintain the consistency that OFS ensures for them. "OFS … remains a consistent, safe, positive part of a young person's week while other factors change around them," he says. "They turn up here every week. They have the same members of staff. They know what to expect. They're welcome every week. They can't get it wrong – tasks and activities are designed to be achievable. Even if you smashed our office's window in, it doesn't matter. Next week we reflect and start again.

"All behaviour is communication and our job is to unpick and support. Challenging behaviour indicates a need and we are here to meet young people at their level of need. Extreme behaviour is rare, staff are highly skilled at de-escalation and our environment is the greatest tool we have for keeping calm."

Corrick understands that mainstream schools have to operate a sanctions policy, but this can have disastrous consequences for some children. "I guess schools haven't got that flexibility. There has to be an immediate consequence – OK, you're excluded." He says, for some kids, especially for those in care, schools "are reinforcing the cycle of rejection" and the children often end up with an attitude of "what's the point? They don't want me anyway".

The hope is that the children's success at OFS will be recognised at their mainstream school, which in turn will boost their self-esteem. Corrick tells me there have been a lot of success stories. He says that there are many children who "have changed after coming to Forest School. It might take a year. It might take four." Some have come back as volunteers or practitioners.

A recent initiative at OFS involves the interaction of students with older people who have early-onset dementia. It's a role-play exercise in which the students cook and provide food as well as helping the older people with craft skills such as making a bird box. "There's no barriers in terms of prejudice", says Corrick, as it's the adults who are reliant on the students and the benefits are invaluable. "For once, it's the adults who are vulnerable, and it elevates them [the students] from their usual identity that is normally 'I'm the one who needs help'."

Corrick says the project has been a great success, with both groups benefiting from the experience. They held a fete where the local mayor visited, and the same group of young and old went to Lyme Regis for a day by the seaside, a first for several of the kids. This seemingly incongruous young- and-old mixed group is next going to work together designing and setting up its own Taunton Flower Show garden.